We now offer Library passes for discounted entry into The Utica Zoo, Fort Rickey Discovery Zoo, Adirondack Experience at Blue Mountain Lake, The Wild Center, and The Empire Pass. These passes are available to an adult with a valid Mid York Library Card. They are loaned for a week with no renewals. Please take advantage of these passes and explore our beautiful state.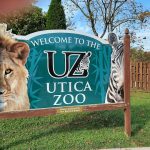 This pass is valid for 50% off of the cost of up to 4 adults and 6 children.The discount does not apply during signature events. We are located at 1 Utica Zoo Way, (off of the Memorial Parkway) Utica, NY  
We are very excited to offer this pass held by The Munson-Williams-Proctor Art Institute, because this one pass is accepted at 18 museums in New York State, under the Empire State Museums Reciprocal Program. This pass will offer reduced admission when presented during your visit. We also have a list available of where else the pass is accepted, upon your request.
This pass allows free entry of a vehicle on a first-come, first-served basis considering the maximum capacity of the facility, when the card is presented at most NYS parks, DEC forest preserves areas, boat launch sites, arboretums and park preserves. 
The Empire Pass is usable at the facilities listed on the website and at most NYS Department of Environmental Conservation facilities, again, as listed on their website. 
2023 Summer Reading Program is here!
Thursday, July 27th, 10:00AM Dusty & Dott @ DCS Auditorium
Thursday, August 10th, 2:00PM Leon Etienne @ Rustic Ties
All programs are Free, available to the General Public.
Contact the DMPL for more information: 315-429-3421
Outdoor games available to borrow:
Outdoor Tumbling Towers (also known as Jenga Towers),  Yard Darts (Jarts), Badminton, Crochet, Cornhole, Disc Slam Frisbee game.